The Bella Classic + Volume Lash Course Bundle
Online Classic Course
$299
Online Volume Course
$300
If purchased you will receive a bundle kit.
Description
Created by professional lash artists, The Classic Online Course will give you all the necessary knowledge and skills to begin your lash journey. This course will teach you the fundamentals of classic lashing, safety, risks, proper marketing techniques, and much more! This course was designed to be done at your own pace through the online portal. If you are a beginner in the industry, need a refresher, or are looking to continue your education, this course is for you!
The course includes a Classic Online Kit, a Certificate of Course Completion, and Continuous Support. All regulations vary by country and state. Remember to check the requirements in your area to legally perform a service if a license is required by a governing body. This course is non-refundable. 
This Online Classic Course includes a Classic Online Kit, Certificate of Course Completion, and the funds used in the course can be transferred for hands-on training near you.
*Student manual is not included in the online course.*
*This course is non-refundable.*
what's included
• Mixed tray, C-Curl .15mm
• Crystallized Fan Mix Tray
• Education Bundle
• Large Jade Stone
• Gold Adhesive 3ml
• Classic Straight Tweezers
• Classic Curved Tweezers
• Bella Lash Bag
• Lint Free Gel Patch 5 count
• Mascara Wands
• Tape Roll
• Hand Sanitizer
• Bella Lash Neoprene Bag
• Glass Palette
Online classic course
Boost your income & build a thriving lash business
WHAT YOU'LL GAIN FROM THIS COURSE:
Gain proficiency in the art and science of applying classic lash extensions, enhancing your professional service offering.
Learn the essentials of operating your own successful lash business, turning your passion into a profitable venture.
Develop effective marketing strategies, particularly in social media, to attract a loyal client base and expand your business reach..
Comprehensive training and support you need to excel in the world of classic lashing.
Online classic course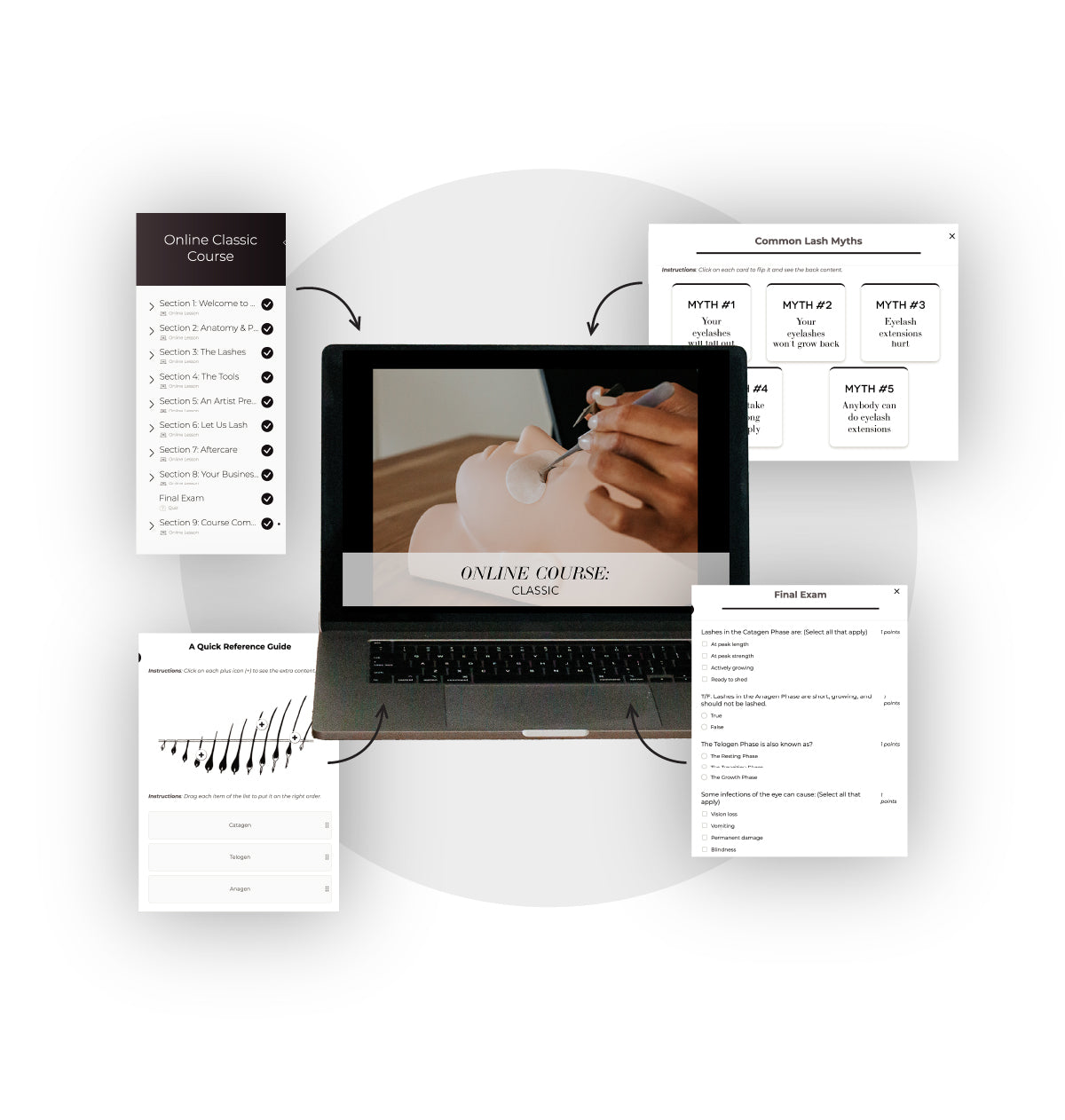 What's included
Online Classic CourseMixed tray, C-Curl .15mmCrystallized Fan Mix TrayEducation BundleLarge Jade StoneGold Adhesive 3mlClassic Straight TweezersClassic Curved Tweezers
Lint Free Gel Patch 5 countMascara WandsTape RollHand SanitizerBella Lash Neoprene BagGlass Palette
What you will learn
SECTION 1

WELCOME
Student agreement
Our Training Philosophy
Why Eyelash Extensions
Common lash myths
SECTION 2

ANATOMY & PHYSIOLOGY
Eyelash Anatomy
The Lash Growth Cycle
The Imporatance of healthy lashes
Safety & Risks
Sensitivities Vs. Allergies
When Not to Lash
SECTION 3

THE LASHES
Eyelash Extensions
Classic Lash Diameters
Classic Lash Curl
Classic Lash Length
Types of Classic Lashes
SECTION 4

APPLICATION IS KEY
Wrapping vs Crystalization
Cover your bases
Knowing the angles
Natural styling for best retention
SECTION 5

ADHESIVES & THEIR ENVIRONMENT
Understanfing the chemicals in adhesives
Enviroment matters
Caring for your adhesive
Adhesive Manipulation
Work smarter, not harder
SECTION 6

Put some prep in your step
Prepping the lashes
The power of aftercare
Do you guarantee your work
SECTION 7

The backside of mastering retention
Pricing your speciality
Marketing your speciality
Retention mastery quiz
Hear from our successful students
Get a certificate of course completion
Step 1: register
After you purchase, you will recieve an email from skillsuite for access.
Step 2: learn
Learn at your own pace. Don't forget you have lifetime access.
Step 3: certificate
After completing the course, you recieve your certificate of course completion.

Do you struggle with ...?
Online classic course
feeling limited by your current skill set and want to learn a new, in-demand skill like classic lashing?
Effectively promoting your services, especially on social media platforms, and attract new clients?
retaining clients and building a loyal customer base for your existing lash business?
After this course, you will be able to:
Mastery in classic lash application
Be confident running your business.
Know how to use the neccesary tools
Create basic lash maps
Be able to differentiate between adhesives
Rebook clients & work with difficult clients
Market yourself on social media
Prep for clients and sanitize your work station
And so much more!
DO YOU...?
want to become your own boss & increase your income?
want to become a faster and more efficient lash artist?
want to master the basics of classic lashing?
want to learn how to market yourself on social media?
Compare the differences
Bella Lash's Online Classic Course
Competitors Classic Courses
Learn classic lashing application
Learn eye anatomy & hair growth
Learn about lash removal
Course & kit discounted to $300
12 years of Lash Industry education experience
Course completion certificate
Interactive elements including videos, photo examples, graphics, quizzes, flashcards, charts & etc.
Learn classic lashing application
Learn eye anatomy & hair growth
Learn about lash removal
Course & kit costs $395+
Course access expires
Less lash industry experience
No certificate
Solely a webinar or not as interactive